Test Yourself at One of These Fitness Competitions Coming Up in Dubai
---
Everyone likes a good, healthy competition, right? Fitness comps can be a cool way to challenge (and maybe even surprise) yourself physically and mentally and meet other like-minded people in town. There's a handful coming up in Dubai over the new few weeks, from friendly ones to very competitive. Here's a quick round up.
Fitter, Faster, Stronger Partner Competition
15 October, Fitness HQ, Dubai
Good for: Pairs looking for a weekend fitness challenge
This new partner fitness competition is making its debut this month and involves pairs competing against other pairs in three very different workouts of strength, stamina and speed! Paris will be required to finish each separate workout as fast as possible and within a one hour time period.
There are 6 different divisions for pair to enter: competitive female, competitive mixed, competitive male or social female, social mixed and social male. So even if you're not in it to win it, you can take part in the social divisions and have some fun testing yourself against others.
There will spot and cash prizes on hand, and the competition will take place from 8am – 2pm, depending on which category you've entered.
For more info on the workouts and to register, click here.
FireStorm
18 & 19 November, JLT
Good for: CrossFitters
Video footage of 2013's FireStorm competition
Reebok CrossFit Lifespark's annual CrossFit team competition is coming up in Dubai this November, as athletes from across the region take part in two days of competition in teams of four (two male, two female).
A classic CrossFit style team competition, FireStorm made its debut in 2012, and has since increased in numbers year on year, welcoming over 100 competitors last year.
During the weekend, every team has the opportunity to compete on both days of the competition, however only the top teams will progress to the final WOD of the weekend. If it's anything like last year, athletes and spectators will be able to track the team scores online throughout the weekend, with the leader board being updated and providing live and up to date scores and positions.
This competition does require competitors to have minimum fitness or strength level in order to participate. To check those out and find out more, click here.
QuadFit Games
24 & 25 November
Good for: Teams
Dubai Security & Emergency Response Department, the Dubai SWAT team, Sweat Group & Fitness First Middle East are inviting fitness enthusiasts to participate in the first regional health club and government entities fitness competition.
This is a team fitness competition with six team members required in total (including two for reserve). The teams should be either all male or all female as no mixed teams are allowed. The event's aim is to foster a healthy competition between regional teams from all walks of life, as well as to give residents the opportunity to compete against the forces.
Qualifying stages will take place on the 24th November at the Gen. Department of Security & Emergency Response in Al Wasl, while the finals will take place on the 25th at the Fitness Expo Dubai at Dubai Marine Club.
It's capped at 24 teams and registration closes on 15th October. Teams will be accepted on a first-come-first-served basis.
To get more information and to register, email info@sweatgroup.ae with the subject line QUADFIT GAMES SIGN UP.
Dubai Fitness Championship
7 – 10 December
Good for: Super fit all rounders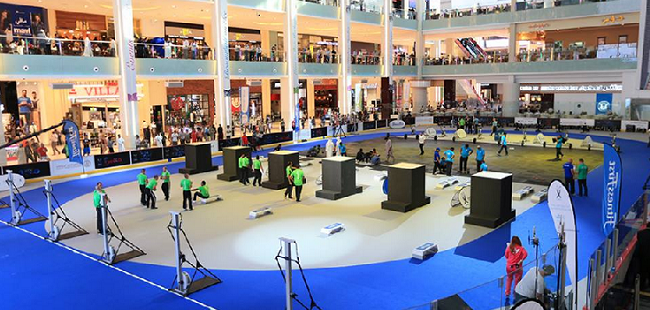 This is the big one. Under the patronage of His Highness Sheikh Majid bin Mohammed bin Rashid Al Maktoum, the annual Dubai Fitness Championship is a competition aimed at crowning the fittest male and female through a competition that sees participants tested in a variety of workouts. Initially the event started as a community competition aimed at finding the fittest male and female resident of Dubai, but in the last four years has opened entry to anyone in the world, inviting some huge names in CrossFit to participate. It is now an international competition where you'll find some super fit people, and with a lot of prize money up for grabs, the competition gets pretty serious.
Related: Dubai's Biggest Fitness Competition is Back: Qualification Details and Dates Here
This year, the event is adopting a format that will see three qualifying stages over a number of weeks between October and November, and a finals weekend in December that will see the fittest of all compete across multiple workouts until the top male and female competitors emerge.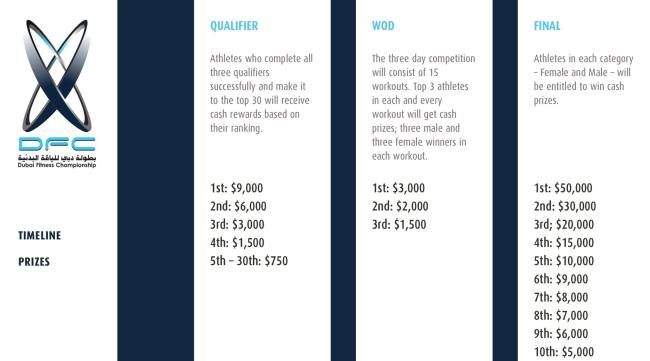 In previous years, the finals have taken place at venues such as the Dubai Mall Ice Rink and it has been televised, so we are expecting another grand spectacle this year.
Oh yeah, and the prize money is not too bad. $50,000 for first place, $30,000 for second, and $20,000 for third, PLUS the top three in each individual workout in the competition win prize money as well. Not bad, right?
Registration opened on the 1st October. Visit the event's website for more information and qualification dates.
RELATED ARTICLES
---