People of UAE Fitness: Q&A with Sarah Al Nowais
---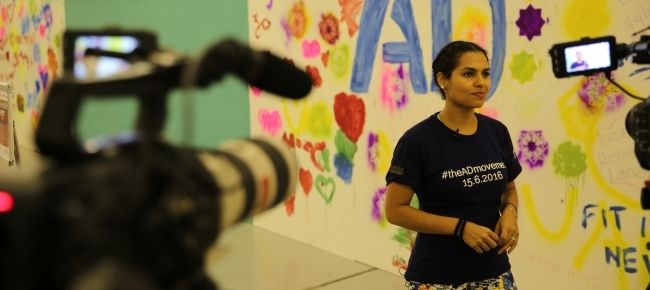 28 year old Emirati Sarah Al Nowais caught our attention when we came across her fitness blog FitNut UAE and, later, an Abu Dhabi fitness initiative she helped organize called the #ADMovement.
In a (fit)nutshell, the #ADMovement – which Sarah organizes together with fitness coaches Abeer Amiri and Kristin Anderson - brings together Abu Dhabi fitness enthusiasts and companies through community events and provides a platform for people to learn more about fitness and healthy living. They've held two such events so far and the last one attracted over 200 people.
As one of the driving forces behind one of the coolest new fitness initiatives in the capital, and someone who is very involved in the Abu Dhabi fitness scene, we had to speak to her and find out more about the #ADMovement and her tips for living a healthy lifestyle in Abu Dhabi.
Q: When did you passion for healthy living start?
During my final year at University in London, I'd been away from home for almost 5 years and I was ready to go back. I was especially looking forward to getting back in the saddle and show jump, a hobby of mine, but not before I regained my fitness and lose the extra weight that had accumulated over the last few years.
I tried a few crash diets and failed miserably (no surprise there), so I googled and googled and googled the best ways to lose the weight and keep it off without depriving myself. That's when I came across something interesting called …. wait for it …. clean eating! Eating whole, unrefined foods that looked incredibly delicious. So I gave that a go, and I also started running, swimming, Bikram Yoga and threw in some YouTube videos and workout DVDs for those cold winter days. I felt better every day, physically and mentally. I had more energy, I was less moody and had a clearer mind. And while the weight did come off, my initial goal of losing weight became secondary to that daily dose of endorphins.
L – R: Abeer Amiri, Kristin Anderson and Sarah Al Nowais
Q: When and how was the idea for the AD movement born?
Last January, as I was in the process of leaving my job, I received a call from my colleague, Abeer Amiri who is also a Crossfit Trainer at Mprove fitness, asking me if I would be interested in organizing a health and wellness event with her and a couple of other ladies. I didn't think twice. This was a dream come true! When I started FitNut, one of my goals for the future was to organize such events and to be able to do it with such a great team of inspiring and contagiously positive ladies is so exciting.
All three of us are very passionate about health and we never really found events that would satisfy our thirst for knowledge concerning health or a friendly place where like minded people could meet and socialize. So we decided to start our own movement! A movement through which we could learn from each other and support one another on our journeys to health and happiness, all the while having a blast, because truly healthy living is fun and we want to show that to people.
Q: How has the feedback been so far?
We've had great feedback from those who attended our events and are overwhelmed with the media attention we've been receiving. We didn't expect things to pick up so fast but we are extremely happy about the positive response which proves that people are willing to prioritize their health and make it a way of life. People want this and we are ready to give them more!
Q: When and where is the next #ADmovement event and what can people expect?
#theADmovement's next event will be held at Zayed Sports City. We are extremely excited about this event as we'll be focusing on mothers and children. We have a great line up of activities and workshops for both targeted demographic, and guarantee a fun, active, and delicious day out!
Participant action shot from the last #ADMovement event
Q: What are some of your favourite healthy F&B spots in AD?
I eat home cooked food 80% of the time but if I were to go out for a healthy, nourishing and delicious meal I would go for Nolu's (I especially like the Nolu's Salad and Chapli kebab), Leopold's of London (their soups are great and I always go for a salad combo), The Raw Place (while I love their juices, my fave items are the cashew mylk, matcha bowl and cucumber pesto salad), The One ( I usually make my own salad), Le Pain Quotidien and a new healthy fast food option that recently opened at Yas Mall called Tossed. They have a great selection of salads, smoothies and wraps, but best of all, you can make your own of each!
Q: Favourite spots to train at in Abu Dhabi?
Usually I train at home as its more convenient for me and my schedule. But I also like to run and ride at the private stables I train at – Al Asayl – join #runlikeagirlAD at Zayed Sports City on Monday morning or Yas Marina Circuit on Wednesday evenings during GoYas, swim at the Officer's club and do stair workouts at Zayed Sports City. I haven't done that in a while but now that they are opening their stadium every last Thursday of the month, I'll be sure to go more often!
I do like to try new classes every now and then. I have recently tried a ladies only crossfit class at Mprove, I absolutely love the Mprove facility. I'm also looking forward to checking out Adrenagy in Khalifa park for Swing Yoga and Surf Training.
Q: What's your usual fitness routine like?
I like to mix things up. It keeps me motivated and excited for my workout, and my body responds well to constant change. In one week I will include cardio (running, uphill walking, swimming), strength training (I'm a low weight high rep kinda girl), HIIT (love my bodyweight plyometrics) and Yoga (does the body and mind good!). I also horse ride, and that's a constant.
Q: Favourite UAE fitness events you've taken part in?
The last event I took part in, the Talise Sandstorm race, was a lot of fun! I'm excited for race season to start! My friends and I just signed up for the Desert Warrior Race! Yikes!
Q: Fave local wellness social media accounts to follow:
My #theADmovement partners, @girlsjustwannaclean and @kristinofarabia, have truly inspiring accounts! I also like to follow @emiratifitness and @fitnesslinkme to keep up to date on the latest happenings. And you're following @fitnutuae and @theADmovement right?
If you live in Abu Dhabi, don't miss the next #ADMovement event on October 22 at Zayed Sports City.
RELATED ARTICLES
---