Top Places to go Rock Climbing in Dubai
---
Rock Republic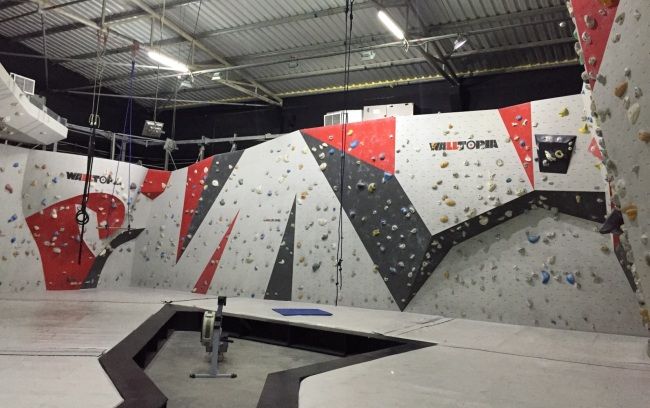 Location: Dubai Investment Park 1, Dubai
Price: Regular: Dhs100 for a day pass including shoe hire and *BARGAIN ALERT* Fridays special: Dhs30 all inclusive from 9am to 1pm!
Contact: Rock Republic
What's the deal: Hidden in the depths of Dubai Investment Park, around a 25 minute drive from Dubai Media City, lies Rock Republic - the only dedicated bouldering centre in the UAE and the region. It has a pretty underground feel - the entrance is basically a warehouse - until you make it through the doors into the climbing arena. Bouldering is a form of rock climbing that is performed without the use of ropes or harnesses. Unlike traditional rock climbing, which requires lots of equipment, bouldering calls only for the wall and your will to conquer it. Since there's no equipment, the walls are not as high as in rock climbing and the floor is replaced with thick padding for a soft landing or fall.
There, you can choose to climb a number of walls, and the difficulty of each is decided by the route you choose to take denoted by coloured holds.
The Rock Climbing Wall
Location: Talise Fitness Centre , Jumeirah Beach Hotel
Price: AED70 per person for one hour
Contact: Talise Fitness
What's the deal? Situated on the nearby courtyard and terraces of Talise Fitness, the Rock Climbing Wall offers a 6.4metre climbing challenge. It has ten vertical climbing lines, each of which culminate in an overhang, plus three rock boulders as well as a traversing section. The climbing wall is accessible for children above seven, and the Boulders and Traversing section is open for those above the age of four.
Pharaoh's Club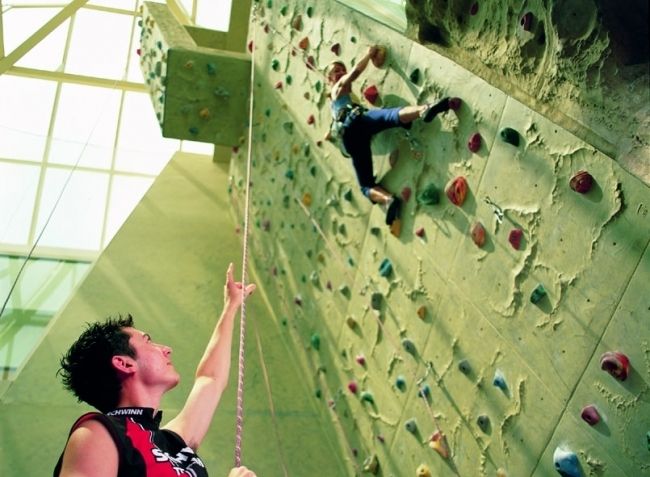 Location: Wafi Mall
Price: AED75 for one hour
Contact: Pharaoh's Club
What's the deal? One of Dubai's oldest climbing walls, this 13 meter high wall is located within the Pharaohs fitness club and has all the ripples, overhangs and pockets for a great climbing challenge. The facility also offers a range of training for climbers from all ages.
Dorrell Sports Climbing Wall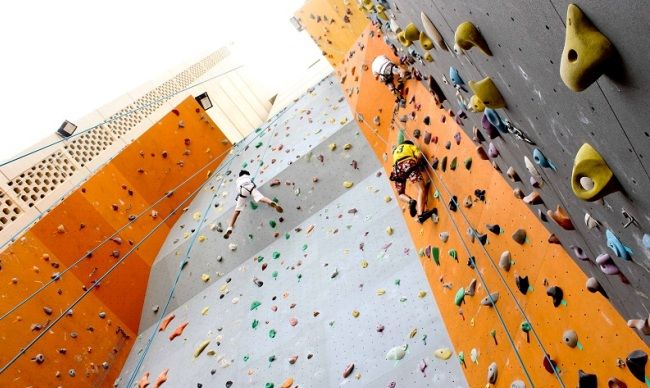 Location: Dubai World Trade Centre
Price: AED 80 for an adult for one hour, AED60 for kids.
Contact: Dorrell Sports / +971 4 306 5061
What's the deal: A well-known climbing spot in Dubai, this 15 meters high outdoor wall is hidden within the DWTC. It's complete with overhangs and lead routes with a variety from Grade 4 to Grade 7, set by Maksym Stienkovyi, the former World Champion Speed climber from Ukraine. There are also few bouldering and traversing routes. It's obvious drawback is the fact that, being outdoors, it's a miss during the summer months. To find the wall, enter through the lobby of block C Dubai Trade Centre hotel apartments and you should be able to locate it.
Adventure HQ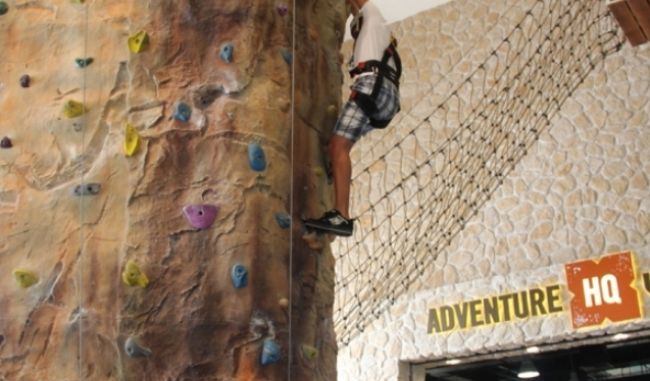 Location: Times Square, Al Quoz
Price: AED60 for 30 minutes, AED100 for an hour for climbing. For both the climbing wall and cable climb, it's AED85 for 30 minutes.
Contact: Adventure HQ
What's the deal: Adventure HQ has large range of products tailored to the great outdoors, and they also have a dedicated indoor adventure facility offering a range of activities including a boulder wall and cable climb. Supervised by certified instructors, it's suitable for all fitness levels, although most geared towards beginners and youngsters.
Hub Zero
Location: City Walk
Price: 160Dhs for a day pass, which gives you access to the center's mezzanine floor.
Contact: 800 MERAAS
What's the deal? This one is more for the gamer slash climbing enthusiast, as this climbing wall is located inside of Hub Zero, a state-of-the-art indoor entertainment destination which includes thrilling rides, attractions and games, aimed at those aged 10 and up. Climbing is part of The Hero Zone, an adrenaline action zone secured with harnesses, including 8 activities such as high rope course, face to face climbing wall, stairway to heaven and leap of faith. It's much pricier to climb here than any of the other locations, so if you're only up for wall climbing, it's best to pick somewhere else.
Magic Planet
Location: Mirdif City Centre
Price: AED50 for 30 minutes
Contact: The Play Mania
What's the deal? Mirdif City Centre's Magic Planet has an 8 meter climbing wall that is perhaps designed with younger climbers in mind. It doesn't have any graded routes and the hand- and footholds aren't particularly far apart. This makes it less challenging for adults but a great place for kids to learn and challenge their climbing skills.
RELATED ARTICLES
---