Recipe: Pumpkin, Spinach and Feta Fritatta
---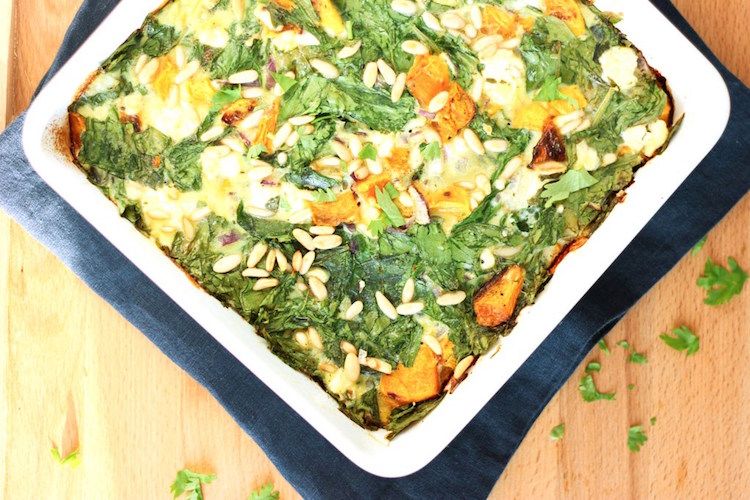 This meal is perfect for any time of the day. Breakfast, lunch or dinner. It is recommended to make a massive dish so you have extras for the next few days - works a treat! It is also super nourishing and nutritious, high in protein, healthy fats and of course loaded with vegetables.
PREP TIME = 30 minutes
COOK TIME = 30 minutes
SERVES = 4-5 adults
What You'll Need
500g pumpkin
1 tablespoon of coconut oil
¼ teaspoon of salt
2 big handfuls of spinach, roughly chopped
1 small red onion, finely diced
½ a cup of feta, crumbled
6 eggs
½ cup of almond milk
Salt and pepper
2 tablespoons of pine-nuts
What To Do
Pre-heat the oven to 180 degrees. Cut the pumpkin into bit-sized pieces and place on a lined oven tray. Mix the coconut oil and salt over the pumpkin. Bake for 30 minutes, mixing regularly.
In a medium sized bowl place the chopped spinach and red onion. Add the pumpkin once it is cooked.
In a separate bowl whisk the eggs, almond milk and season with salt and pepper. Add the egg mixture to the vegetables and stir well.
Fold through the crumbled feta.
Pour the mixture into an oven proof dish. Sprinkle the pine nuts over the top and bake the fritatta in the oven for 30 to 40 minutes or until the middle is firm and the egg is cooked through.
This recipe is by Chloe Moir Nutrition blog where Dubai-based nutritionist Chloe Moir, a qualified nutritionist and personal trainer with a BSc in Human Nutrition and Sport & Exercise Science, shares her passion for nutrition, food, cooking and life. All of Chloe's recipes use real ingredients, plant-based and gluten free.
RELATED ARTICLES
---