Recipe: Chickpea and Capsicum Falafel
---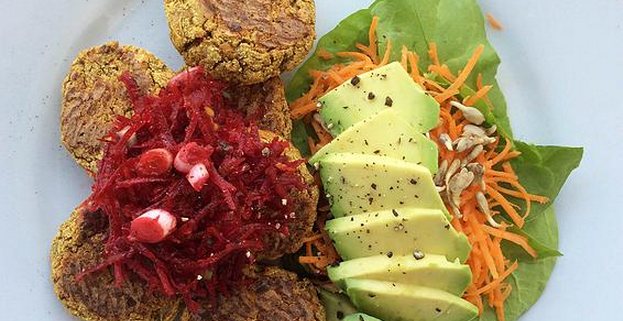 Chickpeas are the vegetarian's wonder-food! Chickpeas are high in satiety-boosting fibre to help keep you feeling fuller for longer. A recent study proved they help to control appetite, with participants reporting higher levels of satisfaction after eating their meals and ate less processed foods when they included chickpeas in their diet.
Chickpeas have also been shown to regulate fat metabolism, lower cholesterol levels, and LDL particles (which take cholesterol to the heart and arteries). Another study investigated the effects chickpeas have on blood sugar levels. Within just one week of chickpea consumption (1/3rd cup per day) participants experienced stable blood sugar levels and an improvement in insulin secretion.
However some people do find that this variety of legumes can cause digestive discomfort [Do I need to soak and sprout my grains?]. If this is you I would highly recommend first to buy dried organic chickpeas, soak them overnight and rinsing them thoroughly before cooking. This reduces the phytic acid compound that a lot of people can be sensitive to. If you are super keen (like me) you could then take it one step further and sprout them! This is simply done by placing the beans between two moist paper towels and leaving at room temperature. Rinse them regularly and after about 2 days you will start to see sprouts appear!
Falafels are a traditional Middle Eastern dish, popular among many of my clients here in Dubai. However, quite often these vegetarian, vegan snacks are deep fried in toxic oils. Here I have simply roasted the chickpeas in the oven to give them that crispy texture without all the oil!
Falafels
2 cups of chickpeas, soaked and sprouted (or buy organic in a tin)
2 capsicums, de-seeded
2 handfuls of fresh spinach
1 small red onion
2 cloves of garlic
1/2 teaspoon of paparika
1/4 teaspoon chilli powder
Himalyan salt and pepper to season
3 tablespoons of gluten-free organic flour (I used 1 tbsp of each: coconut, buckwheat, tapioca)
Raw Beetroot Chutney
1 medium sized beetroot, grated
1 spring onion
1cm sized ginger, finely chopped or grated juice of 1 lemon
What You'll Need:
Combine all ingredients together for the chutney and leave to rest in the fridge while you make the falafels.
Place all ingredients into a food processor and blend for a couple of minutes until well combined. You should be able to handle the mixture and shape it into balls. If not, then continue to blend up the chickpeas or add additional flour.
Heat the oven to 180 degrees, line a baking tray with baking paper. Take a tablespoon of mixture, squeeze it into a flattened ball and place on the baking tray. Continue with the rest of the mixture. Bake for 15 minutes then turn each falafel. Serve with the raw beetroot chutney and avocado.
This recipe is by the Chloe Moir Nutrition blog where Dubai-based nutritionist Chloe Moir, a qualified nutritionist and personal trainer with a BSc in Human Nutrition and Sport & Exercise Science, shares her passion for nutrition, food, cooking and life. All of Chloe's recipes use real ingredients, plant-based and gluten free.
RELATED ARTICLES
---