Recipe: Nut-Free Sweet Potato Brownie
---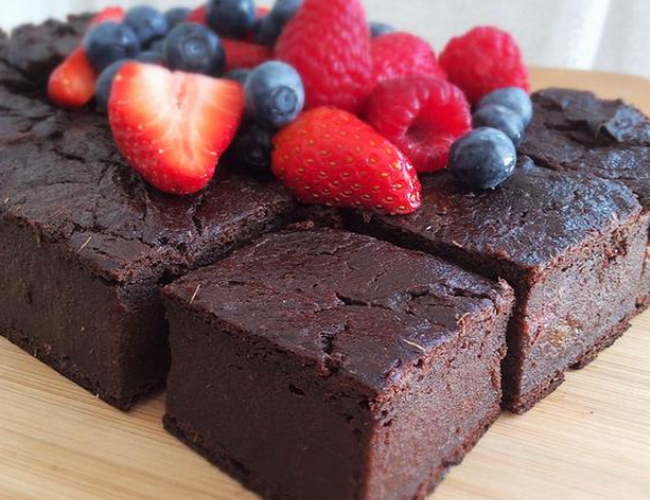 Who doesn't love a good chocolate brownie? No one, that's who. While most healthier brownie recipes contain ground nuts, here's one that is without - for those who find nuts to be hard on the digestive system.
This sweet potato based brownie is packed full of nutrients and contains no added sugar, no gluten, no diary, no oil and no nuts!
What You'll Need:
3 cups of boiled and mashed sweet potato
1 ripe banana
1 cup soften dates, pitted and soaked in 3 tablespoons of boiling water to softened
1 cup coconut milk
4 heaped tablespoons of cacao powder
¾ cup of buckwheat flour
¼ cup tapioca flour
½ cup of brown rice flour
1 teaspoon of baking soda
What To Do:
Place sweet potato, banana and dates in a food processor and blend well. (This mixture is a very delicious mix!!!). Add the coconut milk and blend again.
Add the cacao powder, buckwheat flour, tapioca flour, brown rice flour and baking soda.
Pour the mixture into a lined slice tin. Bake in the oven at 180 degrees for approximately 30-40 minutes, check regularly. Insert a metal skewer or knife into the brownie, if it comes out clean then it is cooked.
Cool on a cooling rack and slice. This brownie keeps in the fridge for up to 5 days. It can also be frozen.
This recipe is by the Chloe Moir Nutrition blog where Dubai-based nutritionist Chloe Moir, a qualified nutritionist and personal trainer with a BSc in Human Nutrition and Sport & Exercise Science, shares her passion for nutrition, food, cooking and life. All of Chloe's recipes use real ingredients, plant-based and gluten free.
RELATED ARTICLES
---