Omar Al Duri Introduces Healthy Lunch Box to Encourage Healthier Diet for UAE Kids
---
Adapted from: Sport360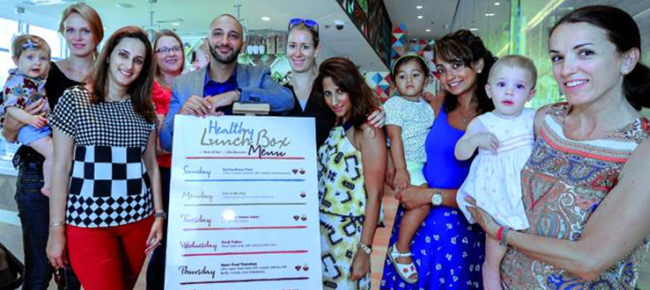 Dubai-based trainer and 2014 FIT Awards' Coach of the Year, Omar Al Duri, is highlighting the benefits of UAE youngsters leading healthier lifestyles as he warns they are "on the road to obesity".
In a bid to curb weight and dietary issues among youngsters, Al Duri has introduced his Healthy Lunch Box menu at Dubai's Ultra Brasserie café in a quest to get kids eating healthier across the UAE.
"Kids in the UAE are on the road to obesity," says Al Duri. "I've seen what goes into packed lunches and it's not good. It's massively frustrating because to provide our children with better meals is so easy."
He does believe the nation is addressing the issue and has come a long way in recent years, and now recognises the need to eat a balanced diet, aware that getting started early means you don't have to later in life when it could be too late.
The 31-year-old health and fitness professional believes variety is key, and insists youngsters can still enjoy their favourite dishes. The campaign at Ultrs Brasserie aimed to give an indication to parents of how healthy eating and planning for children at schools can be fun and full of variety long as it is planned and prepared prior to school days. According to him, "it was an opportunity to get an insight of the different obstacles they face and how we the professionals can help."
"Far too often it appears boring or monotonous so you need plenty of variety to keep it interesting," he adds.
"Parents can change the way they label healthy eating options. A salad is always going to be a salad but you can still eat your favourite foods, just alter them by adding healthy ingredients.
"You can still eat steak fajitas, just don't use any processed foods, use natural ingredients. Add more vegetables to pizzas and grill burgers instead of frying.
"Out here it's dangerous because we live in a 24-hour culture. You can order anything to your door, anytime. The sodium and salt content in meals is so high here and kids are not aware of what they're eating."
Al Duri's roots are based in the Middle East. He is British, born and grown up in London, but his father is Iraqi and his mother is from Saudi Arabia. He moved to the UAE seven years ago and he is more affected by the obesity problem than most.
He says: "The Arabic culture is super generous, the people are lovely and you always have to try something once. There's a culture of it's rude not to finish your plate.
"There's lots of rice and meat but if it becomes a daily occurrence that's when it becomes a problem. Kids think it's normal to eat as much as possible."
Al Duri has already attended mum's groups across the UAE where he talks to parents about how easy it is to prepare good food.
"Sporting idols should be used in more than one way," says Al Duri. "Take Usain Bolt or Cristiano Ronaldo. Use what they eat and how they train and in a split second it's in their minds and, gradually, the mindset changes."
One sportsman who is already on board with Al Duri's campaign is former England rugby star Mike Tindall. The ex-Gloucester man, a 2003 Rugby World Cup winner with England, is now a pundit for Middle East-based beIN Sports. He is an advocate of keeping your body in the best shape to encourage better performance, and believes that mentality must start at a young age.
"It is so important for kids to be eating the right way," Tindall said. Healthy food gives kids the energy they need to succeed. It is essential towards having an active lifestyle. The earlier you start eating well the better. By starting early it becomes routine and sustainable into adult life."
Al Duri pledges not to rest until changes have been made, but is aware that the tide is already turning.
"There is no doubt that the country is on the right track," he said. "Kids are more active, play more sport and are fitter but there is still work to do and that's where I can help make a difference. It's about getting started early so you don't have to go back and start again when you're older. If you start early it becomes a way of life.
"It's not a case of telling Arabic people their methods are wrong, what they've been doing is wrong. It's a case of this is what we can do and what we can achieve together."
Al Duri's new Healthy Lunch Box menu can be found in-store at Dubai Marina's Ultra Brasserie as well as contacting Omar through his social media channels.
RELATED ARTICLES
---