Recipe: Homemade Coconut Milk
---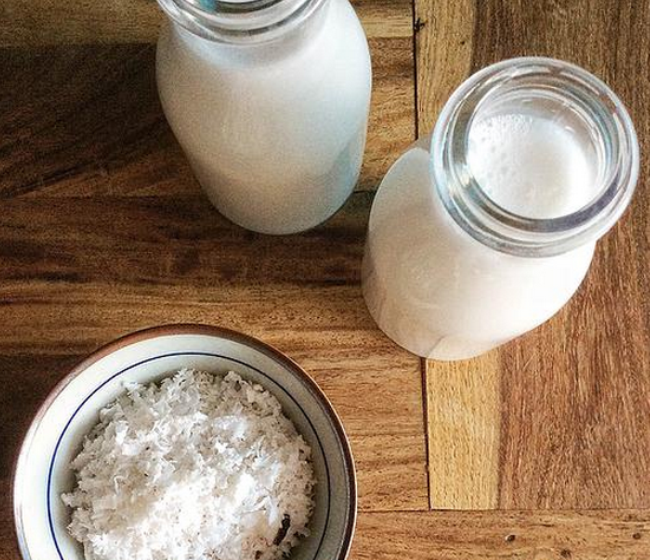 Coconut is highly nutritious, rich in fibre, vitamin C, E and B vitamins and loaded with minerals such as iron, selenium, sodium, calcium, magnesium and phosphorous.
A lot of people are wary of coconuts bad rep for being high in bad saturated fat. While this is a subject that required an article on its own, in brief: coconut contains healthy beneficial saturated fat and promotes a healthy ratio of cholesterol that is associated with a reduced risk of cardiovascular challenges. If you are looking at lowering the amount of fat you consume in your diet avoid processed food and vegetable oil. The type of fat that is found in coconut is rapidly metabolised by the liver and used for energy so is less likely to be stored as fat.
There is an antiviral and antibacterial compound in coconut which destroys a variety of disease causing organisms and thus plays a protective role against infections and viruses. For this reason it is great for clearing up your skin! Coconuts are also great for supporting the nervous system and nourishing our hair and nails.
Pro tips:
Be careful with coconut as it easily takes up the flavours of other foods in the fridge. I store my fresh coconut in a container and wrapped in a plastic bag, and place it in the freezer as soon as I buy it. I defrost it as I need it. Make sure you keep it in a sealed glass jar. I once stored it in the glass bottle without a lid and the next day it smelt and tasted a bit like onion! Yuck!


Because there are no additives or emulsifiers added (like there would be in store bought coconut milk) the fat separates from the liquid. Just give it a good stir before you drink it.
How to make Coconut Milk:
You will need:
1.5 - 2 cups of fresh coconut
4 litres of water, warm
What to do:
Place the coconut and water in the blender, leave for 10 minutes. Blend for 2 minutes then strain the milk using a muslin cloth or I use a coffer plunger.
This recipe is by the Chloe Moir Nutrition blog where Dubai-based nutritionist Chloe Moir, a qualified nutritionist and personal trainer with a BSc in Human Nutrition and Sport & Exercise Science, shares her passion for nutrition, food, cooking and life. All of Chloe's recipes use real ingredients, plant-based and gluten free.
RELATED ARTICLES
---