FitSpiration: JF Tourigny
---
FitnessLink's FitSpiration pieces profile the movers, shakers and makers in the UAE health & fitness world. From local trainers to those that have achieved huge fitness goal, each inspire in their own little way!
From his sedentary lifestyle in a time-consuming IT job, to losing over 50kg and taking on CrossFit. This is JF's weight loss and fitness success story.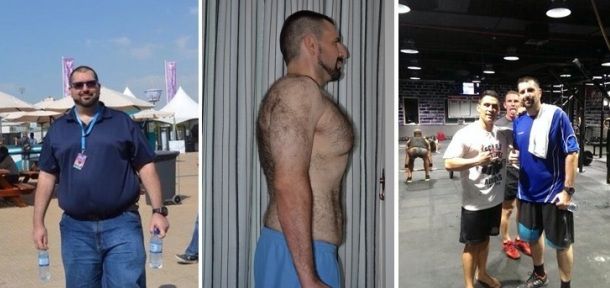 Name:
Jean-Francois "JF" Tourigny
Age:
37
Occupation:
Senior IT network Administrator
My Fitness Journey:
Before starting to work in IT, I was relatively fit. I used to hit the gym at least 3-4 times per week. I was about 95kg. Then I started to work in IT and started going less and less at the gym.
Then in January 2013, I started telling my friend and colleague Eric, who is the hardcore sports type, that I wanted to get back in shape but lacked the motivation to do it. With long days in the office, I was struggling to find the motivation to go to the gym. I was up to 143kg.
Eric started to tell me about this great trainer he had in one of the classes he attended. After being told a few times by Eric how great this trainer was and how motivating he was, I asked Eric half jokingly to ask the trainer if he would do one-on-one sessions with me. Little did I know this was going to be my first step to getting fitter.
A few emails later, I was meeting the trainer, Grant Goes, one of Dubai's fittest guys. My first reaction? "What did I get myself into!". My first meet with Grant was an eye opener for me. He initially suggested some small steps to change my eating and training habits, with the end goal being to change my lifestyle. I was expecting him to tell me to join this gym or to go to this and this class. To my surprise, he asked me to do 20-30 minutes of exercises per day early in the morning.
For the nutrition part, Grant arranged for me to meet Inger from Scandinavian Health & Performance . Even thought I had a bad perception about dieting, Inger reassured me right away. No calorie counting. No scale to weight my food. It's just a matter of eating the right things and in the correct amount.
For the exercises, I started by going for a walk every morning at 4.30am. I would walk for half an hour and then go back home and prepare for my work day. After a few weeks, I started going up the stairs when I returned to my apartment. Grant asked me to set a target date for when I would be able to climb all the way to the rooftop of my building without pausing for a breather (a total of 34 floors). I established a date based on the progress I was doing and when I reached my goal weeks in advance, it only motivated me more.
After that, Grant suggested I try the Body Challenge, an 8 week challenge in Dubai based on a meal plan and boot camps to help you shed weight fast. I entered the body challenge at 108kg. At the end of the 8 weeks, I was surprised to see my weight. I was now down to 95kg!
Now I'm trying my hand at CrossFit sessions and love it. If someone would have suggested me to join a CrossFit session a few months back, I would have called them crazy. Now I enjoy them even if I struggle sometimes. No pain, no gain.
What kick-started me:
I arrived home one day and all the elevators were not working. So I decided to tackle the stairs to reach my apartment (which is on the 19th floor). After four floors I had to sit down and take a breather. Then I started thinking "what would happen if this was an emergency?"
The most important factor in reaching my goal:
Motivation is the key. If you keep being motivated, you keep chugging along. And as you keep going on, you reach your goals in no time. Grant was a great motivator. A simple SMS to ask me how I was doing went a long way. You have to find your own motivator, whatever that may be for you.
Top three tips for those with a similar goal:
1. Do not look at the scale. Try to get fit and the weight loss will come naturally
2. Set yourself realistic goals. I find it's better at first to set lower goals and to achieve them than to set high ones and not achieve them.
3. Do not go into the journey alone. A simple encouraging word can go a long way.
How I feel differently today:
What impresses me the most after one year is how easy the kilos went away. And now that exercise is hardcoded in my lifestyle, I feel bad when I do nothing for more than two days in a row.
RELATED ARTICLES
---