FitSpiration: Malin Terese Blomdahl-Lenner
---
FitnessLink's FitSpiration pieces profile the movers, shakers and makers in the UAE health & fitness world. From local trainers to those that have achieved huge fitness goal, each inspire in their own little way!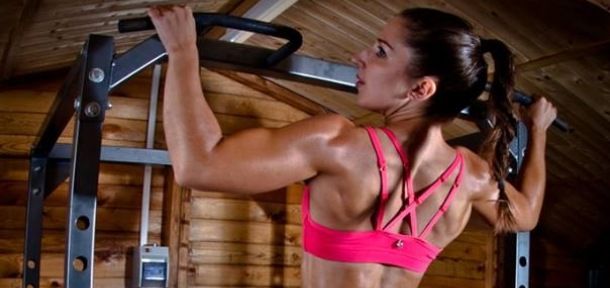 Photo Credit: EzOnTheEye
Who:
Occupation:
Personal Trainer & Nutrition Coach
Tell me more:
Finalist in the Dubai Fitness Championship 2012, and fifth place in the WBFF Diva Fitness Category in London.
My Fitness Journey:
I started training when I was 19 after a break-up. My mum told me to join the gym since I couldn't stop crying! I took her advice and, basically, got hooked! I trained consistently while completing my university degree and got really serious during my last year as a result of starting my Personal Training qualification. From the start, my love has been resistance training and I have never done much cardio. I saw changes to my body quickly and people often asked me if I was interested in competing in physique competitions. I've had it on my mind for quite some time and decided to go for it a few months back. It's been the most challenging and amazing experience so far to compete with the WBFF and I learnt so much, not only in regards to how my own body works but also when it comes to training clients for body composition goals.
My Typical Fitness Routine:
I do a minimum of four weights sessions a week. Usually this is two upper body sessions and two lower body sessions. The first two sessions of the week are typically heavy and strength based, including all the main lifts (squat, deadlift, bench, pull ups, rows). The second two are more volume and higher reps. In my second leg session I usually do more butt/hamstring work and ill add in plyometric moves such as jump squats or lunges and single leg work. Typically I also do one high intensity metabolic resistance session per week which helps to keep the metabolism high and stay lean. This is a whole body session usually in a circuit fashion. Ill sometimes add in abs here too.
My go-to Healthy Snacks:
I tend to not snack as such since I prepare all my meals and they keep me sustained. I have 4-5 main meals during the day and they always include a protein source with veg, and then also either carbs and a fat source depending on what my goals and training is at this point. On the odd occasion I do snack, it is usually rice cakes with peanut or almond butter, or my favourite protein powder (Progenex Recovery) mixed with creamy buckwheat porridge, nuts and some cottage cheese.
My must used health & fitness app:
The only fitness app that I use really is myfitnesspal. I used it everyday for my four month competition prep period to track my targets. It's very user-friendly and it keeps you on track! I don't advise consistently weighing foods and tracking your calories but it is good to do if you are on a deadline (photo-shoot or competition) or to use for a couple of weeks if you are struggling with results. It is a good way to initially learn and recognise how much you need to eat (or not eat) to reach your goals.
My top 3 wellness tips:
Be consistent and be patient. Basically have a goal, plan out how to get there, and stick to it. Some people get super keen initially, usually overtrain and under eat for a few weeks or months and then fall off the wagon since it's not sustainable. Then there are the people that have been doing the same things for a long time but there is no change. In this case my advice is to find a good trainer who can help you structure your nutrition and training.
Make nutrition your priority. Drink lots of water and eat predominantly single ingredient foods. Choose foods that come in their natural form and that haven't been changed or altered. Get used to reading the ingredient lists and if you can't pronounce some of the ingredients or don't know what they are then don't buy it. I can not emphasise enough how important this is with regards to how you look, feel, and your overall quality of life now and in the long term. This does not mean you can't enjoy a treat - but plan it in and enjoy it once or twice a week without feeling guilty.
Sleep well & stress less. Being healthy is not just about hitting the gym and eating well. If you are stressed or don't sleep well for example, this will have a negative impact on your hormonal balance which subsequently could reduce or hamper your results. If you struggle to sleep at night a little tip is to put away all electronics (phones, iPads, TV) 30-40 min before bed and have a relaxing tea that will help you unwind. If this is not enough, take a magnesium supplement before bed, I haven't had a single client who has not reported better sleep as well as better recovery from training after taking this! Also, high stress levels will cause the body to release stress hormones, cortisol being among them. While cortisol levels fluctuate naturally throughout the day, chronic stress and consistent high levels will lead your body to resist fat loss since it thinks it is going though hard times. High cortisol levels are also linked with belly fat. My advice here is to make it a daily decision to de-stress.
RELATED ARTICLES
---