FitSpiration: Shaikha Al Qassemi
---
Passionate about health, fitness, music and adventure, Emirati national Shaikha is a self confessed fitness-freak. As she trains for the Emirati Dubai Fitness Competition, we get the low-down on her fitness journey!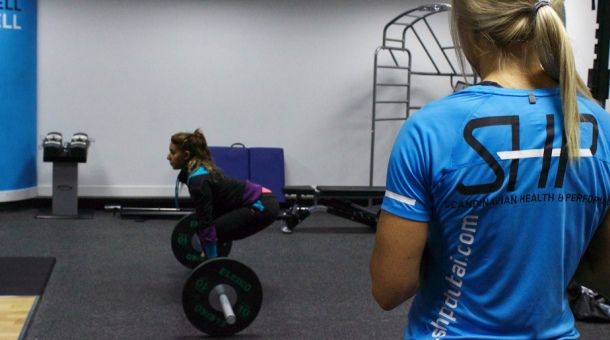 My Road to Fitness:
I started getting into fitness at the age of 16 after graduating high school. I've trained with a few trainers, did some gym jumping and tried a few classes, from Bikram Yoga and Pilates to Kick Boxing and Circuit training. I'm the type of person that gets bored of routine workouts so I did most of my own programs over the years. When a few people suggested that I try CrossFit, I did my research and soon realized it's exactly what I needed. I started strength training at Scandinavian Health & Performance with my trainer Inger around 8 months ago and then started CrossFit classes shortly after when I felt ready enough for the tough WODS.
My typical training routine:
I am mixing it up with intervals and short met cons in the morning, three days a week for strength and endurance training, and twice a week I work with my own program for strength and conditioning.
My thoughts on the local talent in the Dubai Fitness Championship:
At the Dubai Fitness Championship I have never felt so proud of Emirati athletes competing against those international engines! At every heat the Emirati athletes showed a focus, determination and strength that I haven't seen in this country before. I am extremely proud and honored to be surrounded by such great people that motivate me to push myself beyond limits!
What inspired me to enter the ladies fitness competition:
I tried qualifying for the Dubai Fitness Championship, however I was still recovering from an injury so I didn't make the leader board. I am hoping to enter the local ladies competition as I am inspired by every local girl out there who is brave enough to compete and by all the great women that competed in the DFC and pushed though every rep.
My favourite & least favourite evercises:
Well my favorite exercises would definitely be squats and deadlifts, I'm starting to enjoy bench presses and shoulder presses more, but my favorite movement would have to be a Snatch, although I am still trying to get it right! My least favorite exercise would have to be pull ups, the strength for me is easily lost and they tear up my pretty hands! Hah!
My favourite healthy foods & biggest food vice:
My favorite healthy foods would have to be sweet potatoes, pumpkin, spinach, eggs, coconut and sugar free peanut butter! Oh, my biggest sin would have to be chocolates and burgers! Chocolate is my greatest weakness.
My top tips for anyone looking to get into a regular fitness routine?
First tip, do not make any excuses, if you want to be fit, make time for it. Most importantly, feed your body, listen to your body and love your body. Feed your body with clean food, post-workout protein, vitamins and supplements. Listen to your body - if you are in pain you take a rest, you body needs to recover. And lastly, you need to love your body. Each person out there has their strengths and weaknesses. Don't let anyone put you down - embrace your body, embrace those strengths and battle the weaknesses.
RELATED ARTICLES
---